Are You Ready?
Your next step starts here.
At Your Clear Next Step, we help people have better workdays so they can co-create better communities…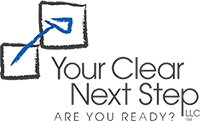 What's a better workday? Great workdays include clear communication, useful tools, processes that work, and human interactions marked with authenticity and grace. Better workdays make for better companies, happier employees, and healthier communities.
How does that work? We listen to what you need; we connect you with the training, coaching, and resources that will help you get even better. Through our courses and coaches, we help you bring out your best at the art and science of business systems and human interactions – whether working alongside others, collaborating with a project team, leading a department, solving a problem, having a one-on-one discussion, serving customers, or driving organizational change.

Churches
Work better together as staff, volunteers, and leaders with help from Biblically sound programs. CHURCHES START HERE >
7167
People say time with us was a good use of time
7216
People say they'll apply what they learned right away
7865
People say we helped them get better
7858
People say we are dynamic and engaging