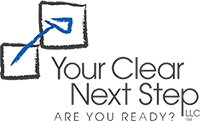 Our Mission & Vision:
Your Clear Next Step exists to help people have better workdays so that together, they can co-create better communities. We do that through connecting people to the training, coaching, and resources they need to get even better at work.
Our Core Values:
We've focused on four simple phrases to describe our core values – that doesn't mean we don't value other things or characteristics or behaviors, it just means that these four are really the essence of who we are, at our core, and they are as natural to us as breathing. The four values are in bold, and there are bullets under each that help describe what we mean by that.
1. Intentionally, reliably useful
Genuinely says and demonstrates, "I'm happy to help!" And "How can I help?"
Consistently delivers on assigned work within the agreed-to expectations
Actively supports organizational goals, vision, and communication standards
Goes the extra mile when needed and works to make that extra mile unnecessary for others
2. Approach problems with creativity and the art of the possible
Overcomes fear of trying new things and stretching outside comfort zone
Unwilling to reply with "that's what we've always done"
"I don't know" also includes "but I'll find out"
Avoids "We can't", and instead asks "How can we?"
Draws connections in problem-solving and openly asks for help and input
3. Positive people-people
You don't have to be an extrovert to work here. You do have to value people and find the good in others.
The people who stay here are those who actively and continually grow their emotional intelligence.
We are committed to conducting ourselves in a way that others prefer our presence over our absence.
Our stories meet the Socratic test of true, good, and useful.
4. Humility alongside confidence 
Practice continuous improvement.
Be confident in your skills and abilities without being arrogant.
Ask questions to ensure understanding and alignment.
Collaborate with others in a way that helps each person contribute their best for the good of the team.
Seek and welcome feedback.
Elevate others.
Who we serve:
Any person in a position to advance their own career or the career of others, in the Midwest and beyond, who values others, works hard, and invests in getting even better.
What makes us stand out in the market?
We demonstrate our three uniques.
We listen to you
We love out loud
We relentlessly, creatively pursue even better
We guarantee:
Every encounter with Your Clear Next Step helps make your workday even better. If you as a customer are not delighted, we promise to make it right
We follow a Proven Process: