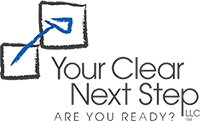 People who participate in our classes describe them as "engaging", "informative", and even "game-changing". Whether in-person or on-line, our participants can tell that they are the center of the training experience. Our learners find that we make the complex simple and easy to apply. And, if you're looking to customize training for your team, we can assemble any of our 200+ modules in a way that works for you!
A little more technical insight:
Your Clear Next Step curriculum developers and trainers base their materials on experience, research, and best practices.
Courseware is developed by experts in the field and reviewed by curriculum design experts.
All classes include a blend of instructor-led instruction, individual, and small-group application.
We follow a consistent pattern of learning: Tell me → Show me → Let me try → Now apply!
All courses include stated learning objectives and instructional and application activities to reinforce the learning objectives, plus opportunities to assess the level to which the objectives have been met.
Courseware is designed to qualify for continuing education credits for a variety of professional associations and programs, including the Project Management Institute (PMI), and the International Institute of Business Analysis (IIBA).